Address
---
257 N. 8th Street, Cottage Grove, OR 97424
Phone – 541-942-5000
Fax – 541-942-5864
Office Hours
---
Monday – Friday 9am – 5pm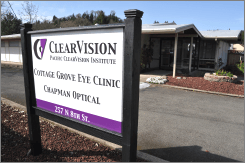 Yet another convenient location for Pacific ClearVision Institute is our office in Cottage Grove. This location has become particularly known for its quiet, peaceful, and mild environment that prevails throughout any given visit. Aside from a kind, quality staff, that's ready and capable to meet any eye care needs, patients often recognize and appreciate the mellow process of their visit — beginning from the instant they walk through the doors and check-in, until the moment they exit the facility.
Frequently both patients and professional vendors alike, who consistently visit the Cottage Grove location, comment on never feeling as if they're overlooked or being rushed. Even during the Office's busier moments, patients can never sense this is the case, due to the exceptional treatment they receive. Further, PCVI in Cottage Grove offers the superlative care of the outstanding Eye Specialists that Pacific ClearVision Institute is known for. Whatever your eye care needs might be, you'll be received into good hands at this Pacific ClearVision Institute location.
Services
---
For those suffering from cataracts our Cottage Grove, OR location is ideal for an evaluation and perfecting a treatment plan to improve your vision and get you back to leading your life. In addition we offer specialized eye care treatments and routine eye care.
These include:
Cataract Evaluations and Treatment
Corneal Conditions
Post-Operative Care
Refractive Surgery Evaluations
Retina Evaluations
Routine Eye Exams
Screening For Eye Conditions
Our Doctors